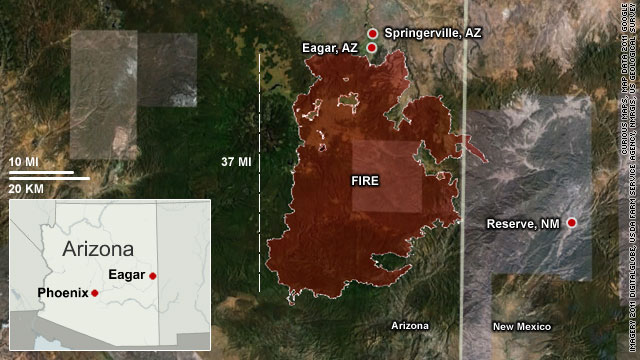 Wallow wildfire burns in Arizona
The Wallow Fire in Arizona has become the largest wildfire in the state's history, surpassing the 2002 Rodeo-Chediski fire, according to officials with Apache-Sitgreaves National Forest.
The amount of land burned by the fire grew to about 733 square miles, forest officials reported Tuesday. The Rodeo fire covered 732 square miles.
The blaze was about 18% contained, fire officials said Tuesday, nearly double the containment figure reported the day before, when officials reported that the northward advance of the fire had been stopped.
Meanwhile, another fire broke out Monday in southern New Mexico at Carlsbad Caverns National Park, officials said. Hundreds of visitors were evacuated as crews tackled the 3,000-acre wildfire inside the park.